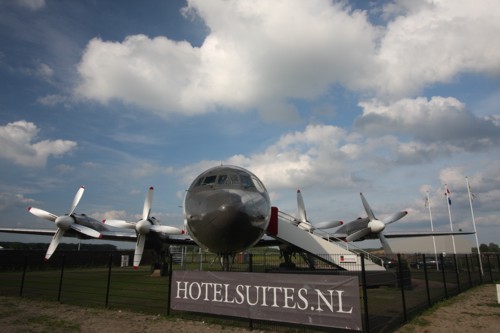 Airplane Suite
De Zanden 61b
7395PA TEUGE
Take a seat in the fully equipped cockpit of this plane, which is nearly 40 metres long, and believe yourself to be a pilot.
From your airplane suite, you will have a fantastic view of the platform and runway at Teuge airport. You can also book a plane tour, a helicopter tour or a flight lesson if you want to take a ride up in the sky. If you want to experience a real thrill, book a parachute jump or a ride with a stunt plane!

The entire airplane has been converted into a single luxury suite for two guests. This means you have the complete craft at your disposal – including its top-flight facilities, which include a Jacuzzi, separate shower, infrared sauna, mini bar, 3 flat screen televisions, blu-ray DVD player with a comprehensive collection of DVDs, a pantry with oven/microwave combination, coffee and tea maker, free wireless internet, air conditioning, etc.

A welcome package is waiting for you upon arrival, offering a tasty bite with your coffee or tea. You can also use the bathrobes and slippers that are made available to help you enjoy your stay at this luxury suite.

In addition to offering luxury accommodation, the airplane can also be hired as a meeting space. Is there anything easier than flying to Teuge airport from around Europe and then parking your business jet alongside our aircraft suite? You will find every possible technical meeting facility on board, we provide for your catering needs. This special location can accommodate ten to fifteen persons comfortably for a meeting in total luxury.

The plane is an Ilyushin 18 and was built in 1960. In its first years, it served as a government plane for the DDR top dogs, including Erich Honecker. From 1964 to 1986 Interflug, an East-German airline company, used it for flights to countries like Cuba, Russia, China and Vietnam. It could accommodate a total of 120 passengers and a four-man crew in the cockpit. After the German unification the plane served as a restaurant for 15 years until it was acquired by Hotelsuites.nl in 2007.

You can access the booking system below to reserve the airplane for one or more nights. You receive an automatic confirmation e-mail with your invoice and the itinerary. Your reservation is definitive after receipt of your payment. If you have any special wishes, please send an e-mail to Mail Airplane suite or call +31 (0)6-19388603.

Teuge airport is situated at the centre of the city triangle of Deventer, Apeldoorn and Zutphen. These historic cities all boast a large and varied shopping experience.
If you are a nature lover, you can visit the Veluwe nature reserve or Bussloo, a recreation area that offers swimming, fishing, hiking, golfing, horseback riding and diving facilities. Here, you will also find Thermen Bussloo, a very special and exclusive sauna, beauty and spa resort. An alternative is Veluwsebron, a five-star sauna complex. If you prefer golf, there are several golf courses in this area.

PRICE:
An overnight stay for 2 persons including a luxury breakfast costs € 350. The airplane is available to you from 15:00 on the day of your arrival to 11:00 on the day of your departure.

ADDITIONAL FACILITIES:
• Large bottle of Champagne in cooler (upon arrival) € 45
• Bouquet of red roses € 20
• We can cater to other wishes upon your request.

HOUSE RULES:
• The airplane suite is intended for a luxury stay for two persons. You are not allowed to receive family, friends or acquaintances at the suite.
• For reasons of safety and hygiene, you are not allowed to bring pets.
• Your stay at the airplane is at your own risk.
• Guests will be charged for any damage to the airplane or its contents caused by guests. The same holds for damage caused by third parties.
• Many facilities are made available to you during your stay. A number of these facilities are for sale; you can request a price list. The luxury bathrobes made available to you, for instance, can be purchased for € 99 apiece. Should our final inspection show that any facilities - such as bathrobes, towels, DVDs, pantry inventory, etc – are missing, we will send you an invoice conformable to the applicable price list.
• Cancellations are free of charge up to 30 days prior to the reserved date. After this time, restitution is not possible.
• Smoking is not allowed in the aircraft.